Twins Women Camp
Twins Women Camp at Flims/ Laax, Switzerland
Anita and Caro Gehrig are 2 crazy good Enduro girls from Switzerland. They compete at the EWS and have amazing results in the top 5. But they are not only amazing riders, they are the best party buddies, #goodtimes buddies and always in a good mood. THEY ARE MOUNTAINBIKE!
It's always amazing to see how they spread the love of Mountainbiking to Ladies at their Ladies Camp. It's my second year in a row they've invited me to guide at the beautiful area of Flims/Laax. In total there were 45 girls taking part. Thanks Twins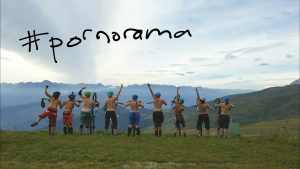 for all the good times and challenges. One competition was to take a picture of the "Best view", my group interpreted it as #pornorama 😀
Thanks for the invite Ladies, I had a blast!