March trip to Barcelona with Oszkar Nagy
What's up?
I've spent the month March with Oszkar Nagy, a very talented rider from Hungary, in order to learn a lot from
him. He's a pretty good coach. Patient, nice and super chilly, just what I need to learn new tricks on my dirtbike. He gave me a lot of confidence on my bike and I even lernt the MBA Line at La Poma Bikepark near Barcelona. That's a huge step for me and I don't know so many girls who are able to jump it and do tricks on it. We even filmed a super nice edit. Me and Oszkar side by side jumping, it's super harmonic, I love the edit. I wish it will be published soon.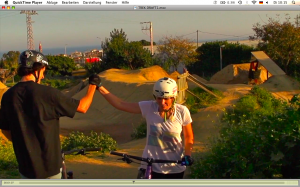 I push so many things aside, like boyfriend, friends, partys, just to learn more and more and to look sick on a bike. I hope it will pay off sometime…