Bike Festival Riva del Garda
Bike Festival Riva del Garda
It's the same precidure as every year. The official beginning of the season, the 1st weekend of May means heading south to Lake Garda in Trentino, Italy. This year I started on Wednesday to shred some extra trails before the Festival – racing – trouble would start on Friday.
But this year the weather changed, my friends and I from Bikepark Samerberg shuttled to reopened trails and found snow… I couldn't believe it, 0 degrees and snow. anyways the trails were fun, too. It was definitely slippery and more muddy but still good to ride. It's always good to spend some quality time with your bros from back home!
I helped out building our amazing TREK booth and finally on Friday the festival started. In the morning I figured out what to ride and where to apply. This year I participated at the Pump Battle on Friday Night, and the e-MTB race. I thought about taking part at the North lake Enduro race, but my legs were so tired on Saturday that I skipped that. Wouldn't have been so much fun anyways, cause it was raining and I didn't have time to check out the trails before the race, so I decided to let it go.
Pumpbattle:
You know what, I simply love: Pumpbattles. The Party took place at the market place in Riva on a wooden track and there were so many spectators encouraging us to give our best, it was amazing, I was definitely on fire! The Highlight was when I had to race against my teammate Steffi Marth. She's an expert in 4Cross, so definitely one to watch and I tried hard,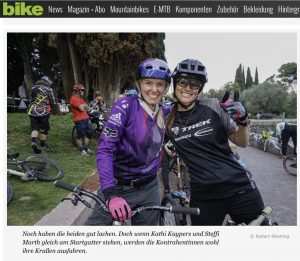 but couldn't battle her out. In the end she got 3rd and I got 4th. Congrats also to Laura and Lucia, a BMX Worldchampion! There was some hard competition! Thanks to Brett Tippie for some good laughters. After the battles the TGG were invited to join the adidas Sport eyewear dinner. I had to go to bed, because my next start was in 5 hours: my first e-MTB Marathon race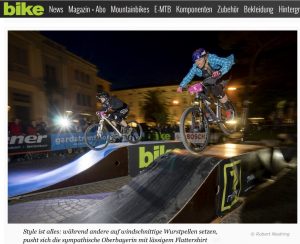 BOSCH e-MTB Marathon race powered by TREK
Yes, I couldn't believe it at first sight, too. But well I wanted to broaden my horizon and took part at the e-MTB race. I underestimated the whole race a bit too much, because it was still a Marathon. I got 4th, had some good fun on the e-MTB and would do it again!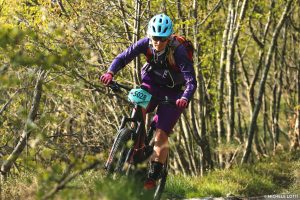 After so much voltage I chilled on the Naranch trail with the guys from Freeride Mag Dimi and Laurin and my boss Guido. These rides are for my heart. it's always good to spend some relax off time on your bike. Thanks guys!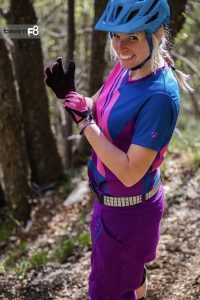 On Saturday evening there was the usual booth party. My TGG and I raffled off some cool prices from Bontrager and served the best beer: Tegernseer Helles!
Thanks for another rad weekend at Lake Garda! I will be back, for sure! Check out the Pumpbattle Story on: Pumpbattle
Pics by Mo, Chris Tharovsky Team F8, sportograf and Michele Lotti I love Girl riders!