Abriss Jam at my place March 7th 2015
Time to say goodbye 
Impressive jumps over wooden kickers, listening to the beats from DJ Walter and a session with cool people – what else can a dirtjumper's heart desire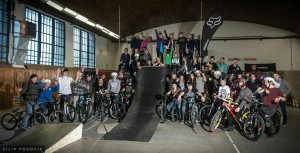 ?!
80 – 100 spectators paid attention to the 30 riders tricking like no magician could have done better at the 7th of March in the old army base in Brannenburg, Southern Germany.
2,5 years ago, I've set my mind on building a indoor dirt jumping spot. I'm so favorably impressed by all the slopestyle dudes out there, that's why I wanted to have my own one to learn all the tricks and to ride with them. I bought foam and wood worth more than 5000 Euros and started to chainsaw.
Whereas the condemn of the old gym hall was set on 1st of April I wanted to have one last Jam Session with all of my pro and amateur friends from Germany, Switzerland, Austria, Scandinavia and so on. Priority was having FUN, the contests like "Best Trick", "High Jump" , "Bunny Hop" and "Buddler" have been a huge success for the participants, too because Trek, adidas eyewear and Fox Head rewarded the best 3 with amazing prices. Thanks to my sponsors!!!!
Thanks to my mom and my cousin who provided sausages and beer while watching the sensational show. The jury was most impressed by Eric Walenta, Basti Bohn and Bernd Winkler from Austria. Basti throw a "720 one Hand" in the foampit and skilled Eric landed a technical "360 Downside Whip" on the wooden jump as well as the highest jump. Tobi Engelmann from Munich grabbed 2nd with a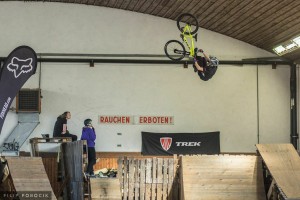 perfectly landed "cork 720" on the woodenReezy Jump.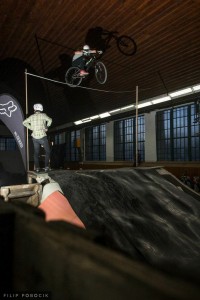 In the end all of the visitors and riders digged presents out of the foam I hided before. That was great fun to watch 🙂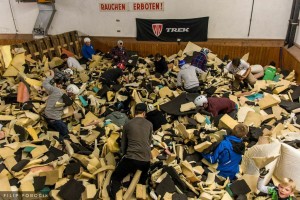 I have to say, to manage such a indoor spot you need at first place PASSION and perseverance for the sport. It costs more money than you earn. But it has been the best 2,5 years of my life – despite of many bruises, concussions, broken noses, destroyed knees and so on. Thanks to all of my riding friends who made every single riding session special. IT WAS A PLEASURE TO RIDE WITH YOU!!!! <3