Crankworx Whistler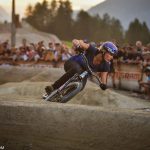 The Crankworx World Tour is a wrap.
I took part in Dual Speed & Style, Pumptrack, Whip Offs and Air Downhill. It was a hell of a great time and I cannot wait to compete at Crankworx events in 2018, too.
For me, the best event was Innsbruck because there were all my friends from back home cheering. Whistler is the best location, because Dirt Merchant, the whole Whistler Bikepark and Canada is unbeatable with its offer of Mountainbiking.