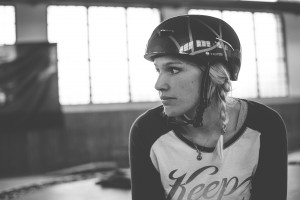 My name is Kathi Kuypers and I'm one of four Trek Gravity Girls.
"Gravity " doesn't stand for illegal daubs at station walls, but rather for fast and stylish mountainbiking. I started Mountainbiking at the age of 18. First Marathon Cross Country (Transalp) then I switched into Freeriding and I started at some Downhill and Enduro races like Gang Battle, Trek Bike Attack, Trailmaster Challenge, and the SRAM Specialized Enduro Series.
In 2013 I finally found my true love: Slopestyle. My goal is to compete at dirtjump/slopestyle contests.
I'm lucky that Trek, Bontrager, Adidas eyewear and Five Ten support me as a MTBike girl.
I'm so passionate about riding bikes and always motivated and I wanna keep it that way! I believe if you wish to be successful, training and love what you do is the one and only important way to reach your goals.